Eastwood and Top Ryde near completion as the Green Guard team upgrades Epping.
Excitement is building for future residents as Romeciti's Eastwood Central Stage 1 and Smiths Top Ryde projects move towards completion. With the structures themselves reaching the final stages of completion, work has shifted to the installation of the interiors and finishes.
With Smiths Top Ryde estimated settlement time around Sept-Oct 2018 and Eastwood Stage 1 estimating a settlement time around Oct-Nov 2018 the teams are working hard to ensuring that each residence is competed to the highest standards before settlement of the properties goes ahead.
At the same time, Romeciti's landscaping team has been reviewing each project to ensure that the uniquely themed gardens, strike the perfect balance of trees and greenery and that the lush, mature plants will thrive in their new home. A centrepiece of each development, the gardens are carefully crafted to create a vibrant, engaging focal point for the entire community.
Green Guard, an exclusive service for Romeciti residents, has also been busy utilizing the benefits of Romeciti's nurseries, to review and upgrade the Magnolia themed landscape at the completed Maida Green Projects in Epping. During the recent upgrades, Green Guard was contacted by a resident hoping to improve the privacy of their courtyard. The team responded immediately providing a beautiful solution that embraced the natural beauty of the area and ensured that the resident received the additional privacy they desired.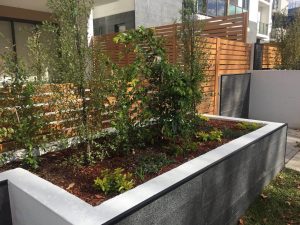 For more information about Green Guard, please contact a Romeciti on +61 2 8090 9065 or info@romeciti.com.au

Uncategorised | 06.06.2018